In this edition ...
There is a report on the Remembrance Day Services; plus the latest Horley Town Guide publication; details on our successful award for the Skate Park; update by the Horley Conservation Group and reminder about the Christmas Fayre in the town centre.
The Town Remembers
The Remembrance Sunday Parade and Service at the Memorial Gardens was very well attended, to commemorate the contribution of military and civilian servicemen and women and to all those who suffered or died in the two World Wars and later conflicts. The RBL Branch Chaplin, Reverend John Glasspool, presided over the Service. The Parade was led by the Band of the Redhill Corps of Drums, followed by by a procession of War Veterans, Councillors <read more>
Horley Town Guide
The new HorleyTown Guide 2016 will be published by the Local Authority Publishing Company shortly and will be delivered by Royal Mail to all local residents. It aims to provide detailed information on a wide range of local services, guest houses, business groups, clubs and societies as well as many other popular amenities. Spare copies will also be kept at the Town Council ofices at 92 Albert Road, Horley RH6 7HZ and an interactive version will be downloadable from our website. We would like to take this opportunity to welcome all new Horley residents, and hope that you will find this guide useful in learning more about our town. We thank all our advertisers whose generous help have made the guide available to all our residents in the RH6 area.
Surrey County Council Community Improvement Fund
We are delighted to announce that our application to Surrey County Council's Community Improvements Fund was successful with an award of £15k towards the replacement of the skatepark at Horley Recreation Ground. We are currently reviewing our plans and will consult young people who use the skatepark For more info on our plans please refer to our Facebook page https://www.facebook.com/HorleySkateParkProject
Update from the RBBC Dog Warden
The unpleasant issue of dog fouling is on the increase. There is a £50 fine for not picking up after your dog. You can dispose of it in dog bins and litter bins. Please give a thought to all the children who love to walk through the fallen leaves at this time of year. Not very nice if it contains dog mess! As previously advised, dog microchipping will be compulsory from February 2016, and from then it will also be an offence not to have the details correct on the chip database. The RBBC Dog Warden has some FREE chips at the moment which are available on a first come, first served basis - please contact Caroline Grant (who can deal with all dog related matters whether it is complaints, or just advice) on 01737 276000 or you can send her an email.
Edmonds Community Hall for Hire ....Around the Clubs!
Horley Society of Artists was originally formed in 1996 by Len Bush and Len Driver. The object of the group is to provide a warm and friendly environment where artists of all skill levels are encouraged to create their own freely chosen styles and subjects. Somewhere to share a common interest in all aspects of art. Whilst there is no formal tuition, members can learn from the more experienced artists, who willingly share their skills. The Society has a library of books and DVDs that are freely available to all members. The facilities are modern and very comfortable being, centrally heated with coffee and tea available, also a kitchen and ample toilets. Meetings are held on Friday mornings from 9am to 1pm at the Edmonds Hall, Albert Road, Horley. As the membership has changed through the years, there is currently room for new members. Anyone interested would be warmly welcomed and should contact Len Bush on 01293 785006, or you can send him an email.
Current Hall Hire availability at the Edmonds Hall:
MONDAY: Time Slots Available: 9am-10am, 12.30pm-6.30pm
TUESDAY: Fully Booked
WEDNESDAY: Time Slots Available: 3.15pm-6.45pm
THURSDAY: Time Slots Available: 12.30pm-3.30pm
FRIDAY: Time Slots Available: 1.30pm-11.30pm
SATURDAY: Time Slots Available: ALL DAY (9.00am-11.30pm)
SUNDAY: Time Slots Available: 3.30pm-10pm
For all hall hire enquiries, please send us an email.
Innes Pavilion Clubhouse
FREE Trial Lesson at Fuzion Martial Arts
Full time Martial Arts venue based at the Innes Pavilion, Thornton Place, Horley RH6 8RJ. Lessons for all ages and abilities reaping rewards from increased confidence, weight loss, discipline and much more. Get in contact or visit to book your FREE Trial at: www.fuziondojo.com/ info@fuziondojo.com or telephone 07506 192390 / 01293 553180.
Horley Conservation Group - December 2015 Update
At this time of year, many of us look forward to long weekend lay-ins, cooked breakfasts and a log fire! However, the hardy stalwarts of the Horley Conservation Group are still getting out and about helping to promote wildlife diversity in our neighbourhood. A group of eager helpers recently descended on Jennings Way pond in Horley and spent an enjoyable morning coppicing and clearing out willows as well as removing pond weed and reeds, raking out the drainage channel and coppicing a large hazel stool. The spoils of the morning's work were left neatly piled up to await later chipping by Reigate and Banstead Borough Council. A busy year for the group comes to a close on 2 December and members will meet at the Farmhouse Pub prior to a morning of activity at Tanyard Pond. Why not come and join in, especially as there is the promise of a lunchtime drink at the Farmhouse in front of a log fire and maybe, just maybe a mince pie or two?
Grounds Maintenance Contract
The Town Council is delighted to announce that G Burley & Sons Ltd have been awarded a 3 year contract to carry out ground maintenance contract in all our parks. The contract was advertised nationally under the new local government procurement scheme.
Horley Christmas Fayre: Sat 28 Nov 10 am - 5 pm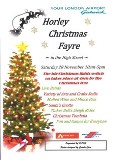 The big Christmas Lights switch on, organised by the Horley Association of Traders, takes place on Saturday 28 November at 4 pm by the Christmas Tree in the High Street Precinct. Many sponsors have contibuted to the cost of the lights and the tree has been kindly provided by the Town Council.
There will be:
Live Bands
Variety of Arts and Crafts Stalls
Mulled Wine and Mince Pies
Santa's Grottos
Tinker Bells' Sleigh Rides
Christmas Tombola
Fun and Games for Everyone
Dates for your diary
Please check out our online "what's on" calendar for information on forthcoming events. Did you know you can submit your own organisation's event? Just follow the instructions on our website.
Forthcoming events are:
Events
28 Nov Horley Christmas Fayre & Switching on Tree Lights
12 Dec Town Centre Carol Service & Councillors' Hospitality
Next Council Meetings
8 Dec Planning

15 Dec Full Council