FEBRUARY/MARCH 2015
In this issue...
Our New Centre

Post-Castration Epididymal Sperm Harvesting Making The Headlines

Congratulations Tullis!

In Other News
---
Keep Up With Us ...
---
---
IN OTHER NEWS
// 2 MINUTES WITH TULLIS
Blog #6 - Preparing the Artificial Vagina (AV) - This month, Tullis provides a mini tutorial on the filling of the AV. He runs through the different types and sizes of AV and the various methods used to collect semen. To watch this video, click here. Don't forget, you can also view other videos on our YouTube channel by clicking here.

---
//KWPN Stallion Show!
Last month, Tullis and Kate went to the annual KWPN Stallion Show where Tullis was invited to speak about the past, present and future of equine semen collection and analysis. We would like to take this opportunity to thank Semira Noman from Triple V for a fantastic few days which were thoroughly enjoyable and informative. Over the few days, Tullis and Kate saw the very best horses that KWPN has to offer across a number of disciplines, the highlight of which was the stallion grading.
---
//TULLIS CONTINUES TO LEARN NEW TECHNIQUES AT THE GERMAN REPRODUCTION DAYS COURSE
Tullis travelled to Lüsche, Germany for the "Equine Reproduction Days" where he learnt about the pathology, diagnosis and clinical management of
problem stallions. In addition, lectures were given on techniques for collection, evaluation and handling of frozen semen. The course ran over 3 days with some of the World's leading experts in the field and was extremely well run and informative.
---
//ANNUAL STUD OPEN DAY PREPARATIONS
As you may or may not know, our Annual Stud Open is taking place on 25th April so if you would like to donate any prizes for our Silent Auction, please get in touch. Last year we raised just under £3,500 for Midlands Air Ambulance. Please email office@stallionai.com for more details and we hope to see you there on the day!
Our Brand New Centre Plans
Plans approved for 2016 building project
// STATE OF THE ART LABORATORY AND STALLION FACILITIES
We have recently had plans approved to begin work on a brand new centre on a new site, albeit a few hundred yards from our current centre. Set in 30 acres, the project will include amongst many other things, a larger, high spec laboratory and offices, stallion barns for upto 28 stallions, an outdoor arena, all-weather stallion turn out paddocks and purpose built collection area with viewing gallery. The new facilities will enable stallions to continue their training alongside their stud commitments. This exciting project is due to begin in a few months and we couldn't be happier.
Post-Castration Epididymal Sperm Harvesting Making The Headlines
The UK's First Epididymal Sperm Harvesting on Bull

// CALVES BORN FROM SPERM HARVESTED
The loss of any beloved animal is heartbreaking but when it is your prize bull who has never served a heffer, it's devastating. This was the case for John Elliot whose bull, Linton Gilbertines Rocco, suffered a broken leg and sadly had to be destroyed. His vets, the Royal Dick School in Edinburgh, suggested post-castration epididymal sperm harvesting as a viable option and due to the small time frame, John drove through the night to deliver the testes to us here at Stallion AI HQ. Just over a year on and the first 2 calves, who were conceived using the sperm harvested post-castration, have been born. The procedure is carried out, ordinarily, on stallions so it's fantastic to be able to provide this service on bulls too.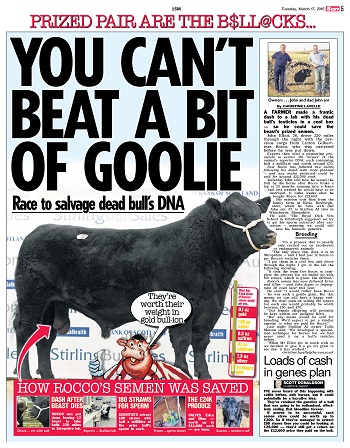 ---
Congratulations Tullis!
Tullis Receives Award in The House of Lords
//ASSOCIATESHIP OF THE ROYAL AGRICULTURAL SOCIETIES (ARAgS)
ARAgS is recognition of success in land based industries. The Council for Awards of Royal Agricultural Societies makes these awards annually from nominations from all four national Royal Agricultural Societies. They look for successful innovative businesses so it is a great achievement for Tullis, who has built Stallion AI Services up over the last 15 years. Well done Tullis!
---
**Click here to view our previous Newsletters and Bulletins**