Hello %FirstName%
New Workshops for Carers & Lots More...
New Workshops for Carers
New workshops for carers available in Telford (you can also attend in Shropshire if venue is easier). We've asked for a workshop to be held in Willow Tree College too at an accessible time for carers with younger people. watch this space... #carersvoices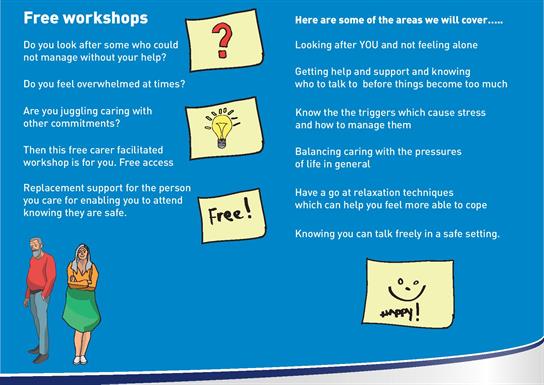 Free Workshops for Parents
Contact have free workshops running in September, October and November. Listed below are the workshops for October. Workshops running in November will be listed in upcoming Ebulletins. If you would like to book on these or any of their Autumn workshops, please email westmids.office@contact.org.uk or call 0121 274 0437. The workshops are free to attend for any parent of a special needs child regardless of where they live.
EHC Plans: Understanding the Legal Framework & Getting the Content Right on Monday 15th October from 10am-12.15pm
A series of two workshops looking at Education Health and Care Plans. The first session, Understanding the legal framework, focuses on the benefits of an EHC plan, the process of getting an EHC plan and what to do if you are refused a plan. The second session (Nov 2018) focuses on Getting the Content Right. This workshop is being held at Donnington Community Hub, St Matthew's Road Donnington, Telford, TF2 7RB.
Personal Independence Payments (PIP) on Wednesday 17th October from 10.15am-12.30pm
A free workshop for parents whose children will be moving from claiming Disability Living Allowance to PIP at 16, or parents who are applying for PIP for post 16s. The session will show you how to deal with common issues such as, The process of claiming PIP, Rules and criteria relating to PIP, How to complete a claim form effectively, Information on the face to face sessions & what to expect and The process of challenging a benefit decision through the appeals process. This workshop is being held at Church Lounge, Selly Oak Methodist Church, Langleys Road, Selly Oak, B29 6HT.
Telford and Shropshire Special Olympics - Free Taster Activities
Telford and Shropshire Special Olympics have got three more amazing weeks of sessions with even more sports and activities on offer! Completely FREE to try, book your spaces asap. Take a look at the activity brochure through www.energizestw.org.uk/so With contact details for all the sports/activity providers. Please see the poster below for sports and activities on offer this week!
IASS Survey
We have been asked to collect your thoughts regarding the IASS service (previously Parent Partnership) via this survey. The survey has now been extended to end of September. Thank you.
https://www.surveymonkey.co.uk/r/RFF38M9
Telford Autism Hub - A Service for Adults with Autism at the Glebe Centre
The Telford Autism Hub have welcomed a new member of the Autism Team - Dale Taylor Full time ASD Forensic Liason Nurse. Dale joined the team last week and will be shortly followed by a Full time Clinical Psychologist and Part time Speech & Language Therapist. Dale will be based at the Glebe centre but his work will also be working out and about in the community.
Having these new members onboard strengthens their team even more as they will have a whole team of professionals with a wealth of experience in autism and provide the necessary help and support for adults with ASD in Telford & Wrekin. To find out more about the Telford Autism Hub, have a look at their Facebook page: https://www.facebook.com/Telford-Autism-Hub-1125796780764611/ #autismsupport #teamwork #teamTAH #autismcentre
Future of Adult Social Care - The Green Paper
This consultation has just been shared from Telford & Wrekin Council and relates to adult social care - the consultation closes at the end of September (and it began in July).
https://futureofadultsocialcare.co.uk/the-green-paper/
Mental Health First Aid
Our Participation Co-ordinator and our Face 2 Face Scheme Co-ordinator are both trained in Mental Health First Aid. Here's some Talking Tips, help someone talk openly and honestly.
Weekly Update from Jayne Stevens (Participation Co-ordinator)...
Hello and Good Morning! A great day in the hub on Tuesday and it gives parent carers an opportunity to pop-in for a chat about services, to find out information and have a mooch in our library, that is building up well and especially thanks to a donation this week of a whole box of new books :) Our Face 2 Face Scheme held a couple of practical workshops at the beginning of the week which I hope you found useful if you attended (photos are over on their page).
Myself and a parent rep attended an Autism & Mental Health conference in Leeds on Wednesday - it was very interesting, Key Note speaker was Professor Rita Jordan OBE, who talked about "Autism and Happiness - what makes a positive outcomes for autistic people", we heard from a family who have fought to get their son home from hospital and a strong message about communication between services and an understanding that there is a young person in crisis at the heart of it all - the outcome was very positive thank goodness, other focusses on the day including making CAMHS accessible to young autistic people, understanding of suicide, reducing stress and anxiety in school, tackling mental health issues for girls and young women and a preventative support approach for young autistic adults. One of key overall discussions was about where a diagnosis of Autism fits in the overall health system and in many areas it actually sits outside of the core CAMHS service and the CAMHS service supports the commonly associated mental health conditions. This will be further discussed as part of the ASD Pathway meetings we will be attending between now and Christmas!
We held our family group 'in the pub' which is getting increasingly popular again and always good to have new attendees including a dad :)
My week ended with another session of my mentoring and coaching course - moving along nicely with that even if I don't like listening to myself after been recorded!
. . . and the finale of the week - our PODS 10th Anniversary Party - WOW, what a brilliant night - great to see so many of you there - enjoying the evening with us that was organised with a team of staff and volunteers, the dancing, the Skaburst band, the Party Selection DJ, the food, the decorations, those amazing cakes, and a couple of short speeches! Thank you for my beautiful gifts which I will treasure (and drink lol). Photos from the photo booth have been shared across on the PODS 'chatspace' along with some of my personal photos - enjoy :) We also took the opportunity to hold a raffle for Zac (grandson of one of my reps) and we raised nearly £100 for him with thanks to a donation of a brilliant raffle prize. Well done everyone xx
Come and join us at our Family Groups...
Wednesday 19th September 2018: Your Voice + Family Resources from 9.30am-11.30am at Hollinswood Community Centre, 7 Downemead, Telford, TF3 2EW
Monday 24th September 2018: Your Voice + Family Resources from 5pm-7pm at Pirates and Princesses, Unit 17, Cedar Court, Halesfield 17, Telford, TF7 4PF
Friday 28th September 2018: Your Voice + Family Resources from 9.30am-11.30am at Dawley Town Hall (opposite Langley School/CAMHS) New Street, Dawley, Telford, TF4 3JR
Monday 1st October 2018: Your Voice + Family Resources from 10am-12pm at Admaston House, Admaston,Telford, TF5 0BN
Thank you for reading our latest bulletin.
Kerrie Seagrave
Project Administrator on behalf of PODS Parent Carer Forum.

We hope you enjoyed reading our latest e-bulletin - we hope you continue to find it useful. If you have any suggestions to make it better feel free to let me know.