In this edition ...
In this edition please read about our response to the Borough Council's Local Plan consultation, a Route 4 Update, news of the annual audit and a request to complete a survey on a proposed cafe in the park.
Local plan: Development Management Plan
At an Extraordinary Full Council meeting held on Tuesday 4 October 2016, the Town Council's response to RBBC's Consultation on the Development Management Plan, Regulation 18 was approved. The response is available here.
Route 4 Update - Horley Overflights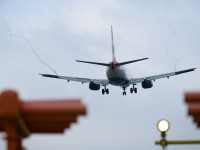 At the NATMAG meeting held on the 29th September, NATS managers reported on their work in relation to resolving the issue of the flights overflying Horley. They agreed that there had been a significant increase since the introduction of the redesigned Route 4 and acknowledged that this was in breach of the Horley overflight rule.
This was the result of vectoring by controllers to allow aircraft to climb quicker whilst at the same providing separation for Heathrow's Dover departures and Heathrow arrivals through the Biggin stack <read more>
Notice of Conclusion of Audit
BDO LLP has completed the Annual Audit for the financial year ending 31 March 2016. The auditor is satisfied with the council's financial standing and has issued a Notice of Completion on 20 September 2016 with an unqualified opinion. The accounts were placed before Full Council who gave formal approval on 18 October 2016.
The Council also fully complies with the Freedom of Information Act 2000 and any member of the public may inspect any other requested documentation which is covered by the legislation.
The following documents are available from the Town Council's website:
Annual Return sections 1 – 4
Notice of Completion

Cafe Survey
Horley Town Council is currently assessing the need and potential viability of providing a café and toilet facility in the recreation ground.
We would appreciate a few minutes of your time to complete the online survey and make any suggestions to improve the park and facilities for all users.
We would also invite suggested locations for the café.

Please send in your responses by 30 November 2016. If you have not already registered, please subscribe to our monthly enewsletter from our website. Many
thanks for your feedback.
Horley in Bloom Awards Evening
Prizes were presented at the Horley in Bloom Awards Evening at Regent Hall on the evening of Friday 30 September 2016. We are very grateful to our new sponsors, Mad Ideas, Crest Nicholson and Taylor Wimpey for their generous sponsorship of the Photographic Competition. Photos taken at the HIB Awards Evening are available for view and download from this flickr album
Dates for your diary...

Please check out our online "what's on" calendar for information on forthcoming events. Did you know you can submit your own organisation's event? Just follow the instructions on our website.
5 November

Bonfire and Fireworks Display in the Horley Recreation Ground (gates open 6.00 pm)

13 November @ 11.00:

Remembrance Day Parade and Service at Memorial Gardens

10 December (all day) Christmas Fayre in the Precinct

17 December @ 11:00 Carol Concerl around the Town Centre Christmas Tree
Next Council Meetings
1 November @ 19:30: Leisure & Amenities
8 November @ 19:30: Planning and Development
22 November @ 19:30:Finance