In this edition ...
In this edition please read our updates on our new skatepark, South & South East In Bloom, Public Inspection of the Financial Accounts and the Henry Webber Memorial service and the announcement of the Horley in Bloom results.
Skatepark Decision
Horley Town Council is delighted to announce that Bendcrete Leisure Limited has been awarded the contract for the removal of the existing skate park and for the design, supply and installation of a new concrete skate park. This follows a tender application where 5 different companies made a bid for the contract.
A User Group meeting will be held at 6 pm on Monday 18 July at Horley Town Council, 92 Albert Road, Horley, RH6 7HZ to finalise the design. This will be the final opportunity to pass on your views and all interested parties are welcome to attend. The new skatepark is expected to be in place by the end of this year.
Regular updates will be made on the Council's website.
Henry Webber Memorial Service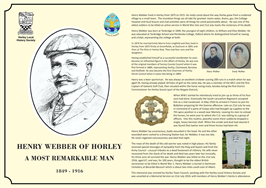 A Memorial Service will be held in the Memorial Gardens, Horley Recreation Ground on Thursday 21 July 2016 to recognise the centenary of the death of Henry Webber who died in active service on 21 July 1916 on the battlefields of France during World War One, aged 67 years. He was one of the oldest soldiers to be killed on active service on WW1 and 21st July marks the centenary of his death.
The service will commence at 1100 hrs. Any member of the public is very welcome to join us. We understand that three of Henry Webber's great grandsons will be attending, two of whom are flying in from Australia. We shall also unveil a plaque and lectern in the Memorial Gardens commemorating the life of Henry Webber, a person who made an enormous contribution to the overall well-being of the people of Horley during his lifetime.
Horley Carnival
The Horley Carnival was once again held in June, with the longest and best procession yet, involving, amongst others, almost all the Horley Schools. Our dedicated Committee members, who represent local organisations which include the Town Council, Chamber of Commerce, Horley Lions, Round Table, 41 Club and local Scouts and Guides, have worked hard all year to bring the event together. This year the theme was "Through the Ages and Beyond!" For the second year running we were delighted to have very generous sponsorship from Gatwick Airport which, along with funding from Borough and County Councillors once again enabled this to be a free event. Unfortunately the very inclement weather leading up to the Carnival (and directly afterwards) has left the park in rather a sorry state, which we hope will recover in time for judging day.
Pictures and comments can be found on the carnivals Facebook page
Public Inspection of Accounts
Accounts for the year ended 31 March 2016
Any person interested has the right to inspect the accounting records for the financial year to which the current audit relates and all books, deeds, contracts, bills, vouchers and receipts and other documents relating to those records or documents.
These documents will be made available on reasonable notice by application between the hours of 9am and 4pm on working days commencing on 20th June and ending on 29th July.
Please click here for further details.
Horley in Bloom results
Results of the Horley in Bloom competition judged on 4 July:
Residential Front Garden
1st: Peggy Clarke
Joint 2nd: Anthony Lacey
Joint 2nd: Ken Greaves
Highly Commended: Samantha Pizzie
Residential Back Garden
1st: Ken Greaves
Joint 2nd: Bob Cherry
Joint 2nd: David Sharratt
Highly Commended:Veronica Ballard
Flats
1st: John Byrne
2nd: William Ashton
Highly Commended:John Bieniek
Hanging Basket / Planter
1st: The Tavern
2nd:Fiona Stimpson
Highly Commended: Anthony Lacey
Community
1st: Sharea
2nd: Anvil Court
Highly Commended: Horley Bowling Club
Commercial
1st: Rosemead Guest House
Public Houses
1st: Ye Olde Six Bells
2nd: Jai Ho (Coppingham Arms)
Highly Commended: The Tavern
Schools
1st: Manorfield Primary & Nursery School
2nd: Horley Infant School
Highly Commended: Langshott Primary School
Cottage Garden
1st: St Wilfrid's Church
Best Newcomer
1st: Anvil Court
Highly Commended:Colin Smith
Allotments results will follow in the next newsletter.
Mike George, Horley in Bloom Chairman, said: "We were delighted to once again see so many newcomers entering the competition and our judges were extremely impressed with the high quality of the entries across the town in all categories and, in particular, the efforts our schools made with the entries. It was pleasing to see so many more budding gardeners this year. " A presentation evening will be held on Friday 30 September at Regent House, Horley, when the awards will be presented.
Helping Hands
David Jackson, Vice Chairman is pictured at the opening ceremony of Helping Hands on 98A Victoria Road
Edmonds Community Hall hire
We now have some spare time slots available at the Edmonds Hall please check our website for available slots.
South and South East in Bloom Update
Horley Town Council has once again entered the South & South East in Bloom competition in the Town Centre and Parks categories. We were delighted to win both silver gilt and silver awards in 2015 and hope to do even better this year! The Town Council is now responsible for all town centre planting so we hope that you will all enjoy our efforts! Judging took place on 13 July so wish us luck please!
Horley Town Council would like to thank the following sponsors for their extremely generous donations towards our summer planting:
Cllr Kay Hammond
G Burley & Sons
Collingwood Batchellor
Dream Doors
Gatwick White House Hotel
Jack Chapman
Mansell McTaggart
Mitchells of Horley
Regency Grove Communications
Rosemead Guest House
SGN
You will no doubt have seen the plaques around the town acknowledging the contributions. We would also like to thank KM Vinyl Graphics for their creative input into their design.
Dates for your diary...

Please check out our online "what's on" calendar for information on forthcoming events. Did you know you can submit your own organisation's event? Just follow the instructions on our website.
Forthcoming events are:
Next Council Meetings
19 July, 19:30: Planning and Development

2 August, 19:30: Finance and General Purposes

16 August, 19:30: Planning and Development

30 August 19:30: Full Council