Hello %FirstName%
PODS Community Pride Award, Project Farm Visit & Lots More...
PODS Community Pride Award
We are excited to announce that on Thursday night we received a 'Pride in Our Community' award, for Best Community Support Group, for our efforts over the last 12 months and during Covid. We are completely overwhelmed to have won this and wish to thank every single person that has contributed in some way to the success of our little charity, without you none of this would have been possible. A massive thanks to our volunteers for their continued dedication and support in such challenging times, you are our hero's.
Also a special mention for our staff who have gone above and beyond to ensure that as many people as possible have been supported and involved during the pandemic. They have worked tirelessly, whilst looking after their families, regularly working volunteer hours on top of their paid work and going along with my crazy ideas such as dressing as Bunnies.
Well Done everyone you truly deserve this. Elaine
Join PODS for a Visit to Project Farm!
Join PODS for a visit to Project Farm! Families will have a tour of the farm and an opportunity to have a hands on experience with the farm animals, including their lambs and ewes! Prepare to get stuck in and feed and groom the animals, they're looking forward to meeting you.
Entrance costs are fully funded. Transport is partially funded. Coach tickets are £2 per child and £3 per adult. Coach departs from Telford Train Station at 13:20 and returns at 16:55. Lunch is not included but you are welcome to bring your own. Open to PODS members residing in Telford and Wrekin.
For more information please email jeannie@podstelford.org or to book your place, please click here: Visit to Project Farm
Autism in School Project - Call out for DOTHILL and CHARLTON School Parents
We have set up a "whatsapp" group for parent carers of the two schools we are working with us on this project. Please join us for updates, opportunity to chat, and to receive information about the project. Please complete this short form with your info and we'll get you added and chatting.
Thank you from Jayne and Uma.
Whatsapp Joining Consent form for Dothill Parents
WhatsApp Joining Consent Form for Charlton Parents
"What's Your Story" Competition
What's Your Story is a creative writing and art competition for young people aged 7 – 16 years old, who are either diagnosed or awaiting assessment as autistic, in Shropshire or Telford & Wrekin.
We are looking for stories, poems or pictures from autistic young people sharing their experience of school life.
Successful stories will be part of a booklet created for schools to support staff and students to understand more about the experiences of autistic young people in school.
This competition is part of the North Midlands Autism in Schools pilot and is being supported by Ignition CIC.
All entries should be sent to hannah@i-gnition.co.uk by the 1st May 2022. The winning entry will receive a £50 book token.
Pears Activity Sessions for Primary Aged Children
Fully funded places for our Pears activity sessions are now open for primary-aged children! Sessions are subject to change but are likely to include Wrekin Forest School, Fun Science and Inflata Nation. Places are on a first come first served basis and are open to PODS members who reside in Telford. Upon sign-up, participants agree to attend all six sessions. Activities and places are to be confirmed by 11/4/2022.
Please email jeannie@podstelford.org to register your interest.
PODS Blists Hill Family Group
Friday 29th April 2022 from 10am-12pm
Come and join us at PODS Family Group in Blists Hill Victorian Town for a chat, relax and meet with friendly faces . Ask us for some advice or just enjoy a walk around the village. Please note a facemask is required in some parts of the village. Tickets are available at a subsidised cost of £2.50 per person.
PODS will provide 1 tea/coffee/soft drink to each person booked, however you will have to purchase your own other refreshments if required. Places are limited and booking is essential, open to all PODS members living in Telford and Wrekin. Please note that the tickets are non-refundable. Children, of any age, are welcome however if they are under 2 years old, no ticket is required. We will be meeting at the entrance at 10am, please let us know if you will be late or can no longer make it so as the group can enter on time.
To book your place, please click here: PODS Blists Hill Family Group
PODS Jubilee Crafts Session for Children
Friday 22nd April at 10.30am at The Pavilion, Draycott, Hollinswood TF3 2DN
Join us for a fun craft session for children based on the Queen's Platinum Jubilee. The children will be decorating crowns, bunting and flags all ready for the Jubilee celebrations. The places are limited and booking is essential.
Please note that you need to book your child(ren) in only one of the sessions as same crafts will be done in both.
To book a place, please click here: PODS Jubilee Crafts Sessions for Children
SEND Parent Carer and Family Newsletter - March 2022
The SEND Parent Carer and Family Newsletter contains all the current news and information for Parent Carers and Families about Special Educational Needs and Disability in Telford & Wrekin.
In the current edition, you will find information on Shout Out for SEND, SEND Activities and Events, Support for Parent Carers and Families and lots more.
To read the Newsletter in full, please click here: SEND Parent Carer and Family Newsletter - March 2022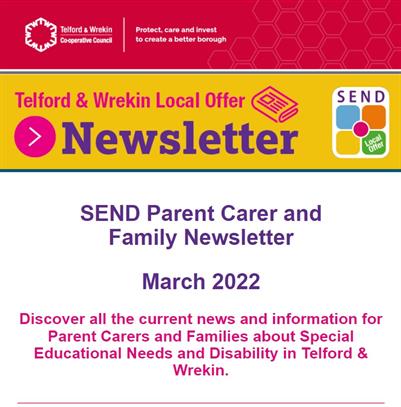 What's on Kooth in April
Please see the poster below for what's on Kooth in April.
To find out more about Kooth, please click here to view their website: Kooth
Update from Jayne, Strategic Co-ordinator
Hello all
How are we all doing? Hope you are staying safe and well.
We've had a couple of really busy weeks here in 'forum' world, continuously working with leads, commissioners and teams to make services better for our families.
I'm currently reviewing the Emotional Wellbeing Panel report that has been written – it's very detailed and speaks volumes of the frustrations of families stuck in the system of trying to get a diagnosis. We are told that a 'diagnosis' is not important, and families should still receive the help they need, and they should do, mostly, but it's important to families and we've reported on the reasons why – it's going into various reports that we have highlighted as part of the Self Evaluation Framework, ahead of the next OFSTED/CQC Project. However, we hope we have some good news in that there is a whole new team in the BeeU service focussing on Autism, wider Neurodevelopment and Mental Health, which so far, pleasingly has come with improved communication and working – I'm hopeful that these changes will make a difference and that the plans that are in place can be shared with you wider.
It's Short Breaks meeting today, so lots of feedback from conversations we've had with families these past few weeks – quite a bit of chat about what Shropshire are doing with their Actio project. Don't forget that the Short Breaks 'Forum', ran by the council, is on Wednesday evening . Be great to get some families of younger children going if you can, if you can't get there, just let us know and our Reps are happy to feed into on your behalf.
We've had another Reps meeting this last week and getting to grips again with all the local projects and workstreams, just regrouping and checking out what's important to our families. Our team of reps are all volunteers and support me in my role, they also attend meetings with me, and also independently on PODS behalf and provide feedback back to me. Lots of meetings are interwoven on specific subjects, like activities, or mental health, or Autism so there's lots of crossovers and it's important that we keep our communication open. We are still representing across the whole life areas – health, education, early years, early help, social care, transition and our work with other voluntary partners and services such as the hospitals.
You may have seen our "picture in the paper" (or social media) with Cllr Shirley Reyholds as part of the celebration for Autism Awareness Week – we were photographed for the sharing of information about the Chidlrens Autism Hub at Hazeldine House. We're very pleased to be part of this of course, and also know that there is still more work to do – definitely not taking our eye off the ball.
We have been recognised this week as PODS Charity, as 'Community Support' and won an award! Whatever this looks like to you as a family, it's important to us, that we are here for you, whether that's getting you involved, listening, feedback, joining in with activities, a phone call, a text, an email or a chat – it's all vitally important – to you and to us. Four of the wider PODS Team attended the celebration event on Thursday, with the remaining two of us attending the Mayor's Ball on behalf of the charity. A great feeling to be recognised and celebrated, and we will be hosting an event in the next few months with our teams of amazing volunteers to thank them personally too!
It's important to us that we remain, as ever, your conduit for ensuring your voices are heard and services are developed to meet those needs, in conjunction with all of you, and your feedback is important. We continue to work pan-disability and across a wide range of ages, up to 25 years.
Thank you and Best Regards to all.
Jayne
Action for Happiness Calendar - Active April 2022
Please note the above material is subject to copyright, please contact PODS before sharing any of the information in this PODS Ebulletin.
Thank you for reading our latest Ebulletin, please stay safe & well.
Kerrie Seagrave, Member Support Co-ordinator
on behalf of PODS Parent Carer Forum.

We hope you enjoyed reading our latest e-bulletin - we hope you continue to find it useful. If you have any suggestions to make it better feel free to let me know.