Horley Town Council
December 2018
eNewsletter

In this edition..........
We feature news about this year's Horley Town Council Precept; a sincere note of thanks from the Royal British Legion following their successful Poppy Appeal; a reminder about the next Horley Residents' Forum Meeting; an update on the Christmas Fair organised by the Horley Association of Traders plus the annual Horley Town Centre Carol Service & Councillor Hospitality at Regent Hall; and other interesting community information. 
We have also included for information our 'Make a Change, become a Local Councillor' Campaign, in the run up to the local elections in May 2019.  

HORLEY TOWN COUNCIL SET BUDGET & PRECEPT FOR 2019/2020
At its Full Council meeting on 11 December 2018, Horley Town Council approved its budget for 2019/20 and set its Town Precept. Cllr Samantha Marshall, Chairman of the Town Council's Finance & General Purposes Committee, explained that the Precept for 2019/20 had been set at a total net figure of £372,755. This means that the Town element of Council Tax will be an average annual amount of £37.87 per household, representing an annual increase of 97p per Band D property (+ 2.64 %). This figure still only represents two thirds of the National Average Precept.
To read more on this please click on this link to the website
Horley Library Reading Group is looking for new members
The Reading Group is open to all - it meets on a Wednesday afternoon at 2.15pm - once a month. They talk about a different book each month - and take it in turns to choose a book.The meetings last no more than an hour and are a friendly group. They are looking for new people to join them.  
Some books they have read in the last year: 'The Unlikely Pilgramage of Harold Fry' by R. Joyce; 'Brooklyn' by C. Toibin; 'Instructions for a Heatwave' by M. O'Farrell
Why not give it a go?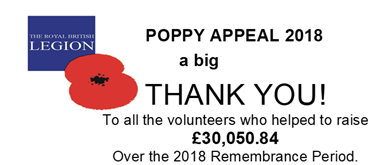 This money will be used to support members and ex members of our armed forces and their dependants who are in need.
Our top collector is Peter von Staerck £2,207 followed by Army Cadets Stevens £1,910 and Ridler £1,477. Then Peter Lynch £1,179 and Barbara Bulman £1,145.

Also many thanks to helpers/collectors Jon Meyer, Joe Hughes,
Mick Pound, Margaret Cook, Zoe Turner, Paul McDonald, Bob Jenkinson, Brian Wassell, Karen Saville, Grant Milnes, Martin Parkes, Kelvin Lindsey, Bob Dallaway, Georgia Stone etc.
They are too numerous to mention everybody who collected money and those who counted the money, delivered and collected the boxes but they all deserve our heartfelt thanks for their hard work.
Perhaps you would like to help us again during next year's Poppy Appeal?
If so ring Tony Keay on 01293 772855
Horley Town Centre Carol Service & Councillor Hospitality
Despite the particularly cold weather this year, Horley joined together on Saturday,15th December at 11.00 am, to sing carols around the Christmas Tree in the High Street Pedestrian Precinct. The Carol Service was organised by all the local Churches and was followed by warming drinks and nibbles in Regent Hall, Albert Road.  The welcome buffet was kindly provided by Horley Town Councillors. 
We wish all residents a very Happy Christmas and Prosperous New Year!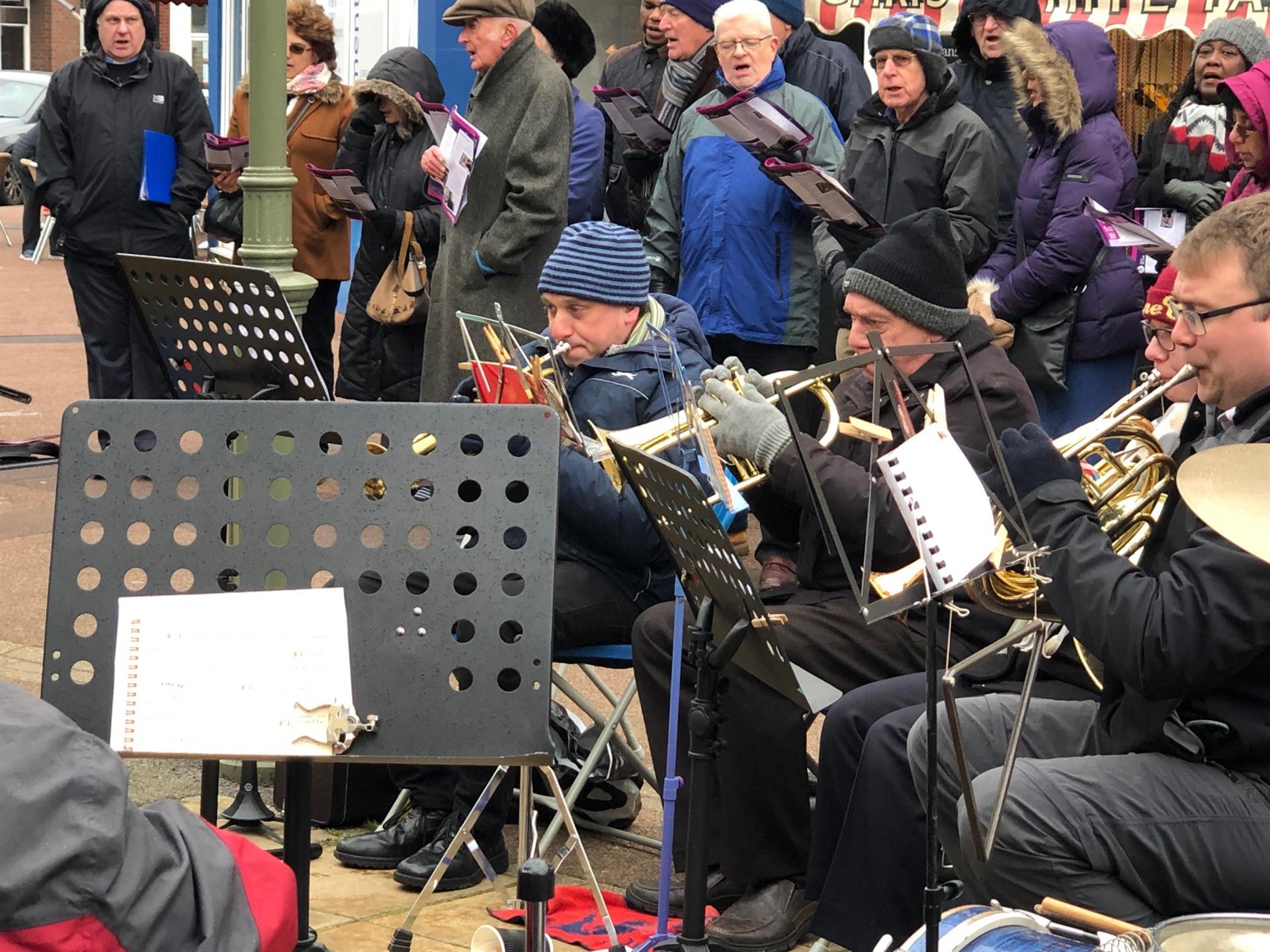 We would also like to extend our thanks to Darren of Dappers in the High Street for kindly fixing the War Memorial Union Jack flag free of charge. 
The flag will be returned to the War Memorial as soon a possible.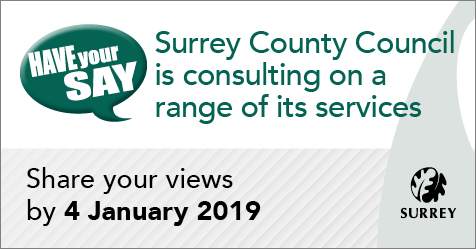 Over the next year Surrey County Council need to save a further £85m which means they will have to make changes to some services. So on 30 October 2018 they launched a series of consultations about Surrey's children's centres, libraries and cultural services, concessionary bus travel, special educational needs and disability and community recycling centres.
They want residents to give their views by 4 January 2019 to help them shape those services for the future. You can do this online or by picking up a copy of the questionnaires at your local library.
For more information about the consultations visit Surrey County Council consultations.
Horley Residents' Forum 

Anyone living in Horley is welcome to attend the Resident's Forum Meeting, held at the Albert Rooms, Horley Town Council, Albert Road, Horley, RH6 7HZ.
Local people are able to raise any matters of local concern with Town, Borough and County Councillors, as well as with the Joint Enforcement Team.
The next meetings are due to be held on Monday, 28 January and Monday, 1 April 2019 at 7:00 PM
Notes of previous Residents' Forum Meetings are available from the Town Council.  Please contact us if you would like this information.
'Make a change, become a Local Councillor...'     

Horley Town Council is calling on residents, passionate about their community to stand in the local elections in 2019
What do councillors do?
Councillors are the champions of their community and give residents a voice on the decisions the council makes. Becoming a councillor will allow you to make a real difference in your community by engaging with residents, local groups and businesses to find outtheir needs; making decisions on which services and projects the council should take forward; and getting involved locally to ensure the services are meeting your community's needs.  
For more information, please visit the Horley Town Council website on this link
HATs Christmas Fair
The annual Horley Association of Traders Christmas Fair took place on Saturday, 8th December. The High Street was lined with a variety of stalls, ideal for Christmas shopping and ideas for that perfect gift whilst others offered an array of delicious foods and drinks to try.  Father Christmas and his Reindeer stopped by to greet the children at his Grotto and the lights were switched on after the sun had set to illuminate the street with good ole Christmas cheer!  Well done to HATs for arranging this very popular event.
To view other upcoming Christmas and other events in and around Horley, please visit our website on this link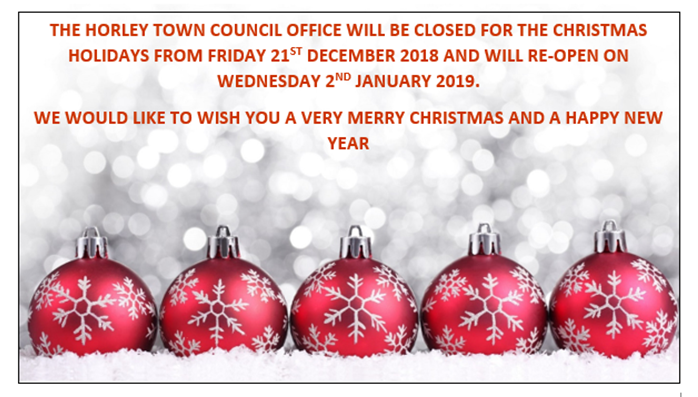 Dates for your Diary
19:30    8  January  2019     Planning & Development
19:30   15 January  2019     Leisure & Amenities
19:30   22 January  2019     Finance & General Purposes
19:00   29 January  2019     Residents' Forum