Hello %FirstName%
PODS Annual Survey, Funky Friday's 1st Birthday Party & lots more...
PODS Annual Survey 2018
If you've not already received our Annual Survey by post, please take a few minutes to complete it online, it helps us to develop our priorities for the coming year and also ensures that we are meeting the needs of our families locally. Please let us know your thoughts.
https://www.surveymonkey.co.uk/r/HQDVL3V
Please complete and return by 17th August to be entered into a prize draw to win a £100 gift voucher of your choice. Your feedback is very important to us and we would appreciate it if you could complete this Annual Survey. Thank you.
IASS Survey
We have been asked to collect your thoughts and opinions regarding the provision of Impartial Information Advice and Support Services in Telford & Wrekin (IASS) - formerly known as Parent Partnership Service. This is part of a new tender that will encompass wider Advice and Support Services which will go 'live' over the summer break and we wish to gather responses and use the results to provide feedback on how the IASS service is currently performing and ideas for improvement – for consideration in the tender that goes live at end of August. Please share your thoughts with us and return the survey by Friday 17th August.
https://www.surveymonkey.co.uk/r/RFF38M9

All responses gathered will be anonymous If you wish to discuss any matters in confidence with Jayne Stevens, our Participation Co-ordinator, please get in touch via email to jayne@podstelford.org.

The Hoffmann Foundation for Autism Prize Competition and Exhibition 2018/19
The Hoffmann Foundation for Autism has been providing an art service for adults with asc since 1991 and providing a competition since 2009. Realistic cash prizes are offered in order to attract high quality entrants but all work that is sent to them will be exhibited and apart from the entry fee (£10 per picture) there are no other costs to the artists (no commission on sales for example).
It is being held at the Bruce Castle Museum and Gallery, London.
From Wednesday 14th November 2018 until Thursday 28th February 2019
Submissions must be in by Wednesday 31st October 2018
For more information on the competition and exhibition including the entry form, please click on the following link to PODS National Links page on our website: https://www.podstelford.org/national-links/​
Council for Disabled Children – Digest - Summer 2018
CDC's latest Digest has been released, featuring news from across the sector.
In this issue you will find the CDC Stakeholder Survey, Secretary of State's speech to ADCS, The TES SEN Show 2018, New IAS Programme and lots more:
https://councilfordisabledchildren.org.uk/sites/default/files/field/attachemnt/Summer%20Digest%202018%20final.pdf​
Network Autism - A Holiday Guide for Autism
Network Autism have put together a useful holiday guide for autism.
Whilst it says autism there might be some top tips that help children with wider disabilities and needs. To find the guide please click on the link to PODS National Links page:
https://www.podstelford.org/national-links/​
Funky Friday's 1st Birthday Party!
Funky Friday are celebrating their 1st Birthday, with a party on Friday 3rd August from 7pm-9.15pm. Funky Friday is a Disability disco for young people aged 15+ with SEN/Disabilities. £3 per person, carers free.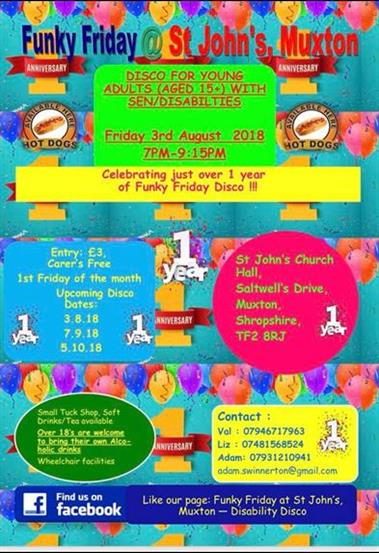 Dimensions Autism Friendly Screenings - August 2018
Dimensions work with ODEON, Cineworld, Vue and Showcase to host autism friendly screenings at over 300 cinemas nationwide. On Sunday mornings throughout the month, films suitable for all audiences are screened in a sensory friendly and inclusive environment. To find out more about August screenings, please click on the following link: https://www.dimensions-uk.org/get-involved/campaigns/autism-friendly-cinema-screenings/​
PODS Picnic in the Park - Monday 6th August with Special Guests from Pirates and Princesses!
We are just a week away from hosting this years Picnic in the Park on Monday 6th August at Admaston House, Admaston. We will be having some very special guests from Pirates and Princesses!! We will also have, Quad Bikes, a Bouncy Castle and lots more! This year is an extra special year for PODS as we are celebrating 10 years! Come and help us celebrate at what will be a fantastic day for all our families! We look forward to seeing you!
Come and join us at our Family Groups...
Monday 30th July 2018: ****PLEASE NOTE PIRATES AND PRINCESSES FAMILY GROUP WILL NOT BE RUNNING****
​Monday 6th August 2018: Picnic in the Park from 10am-4pm at Admaston House, Admaston,Telford, TF5 0BN (Please see the poster above for more information).
Thursday 9th August 2018: Your Voice + Family Resources from 7pm-9pm at the Elephant and Castle Pub, Dawley, Telford, TF4 2ET
Wednesday 15th Ausgust 2018: Your Voice + Family Resources from 9.30am–11.30am Hollinswood Community Centre, 7 Downemead, Telford, TF3 2EW
Thank you for reading our latest bulletin.
Kerrie Seagrave
Project Administrator on behalf of PODS Parent Carer Forum.

We hope you enjoyed reading our latest e-bulletin - we hope you continue to find it useful. If you have any suggestions to make it better feel free to let me know.