Question to the 3 key parliamentary candidates hoping to become Minister of Sport for the new Government
NADS is asking its members to write to or email their local parliamentary candidates for a response to the question below. NADS has also sent this question to the three main candidates who hope to become Sports Minister for the next Government. Their responses will be published in our next e-newsletter which will be released in the last few days running up to the Election.
NADS would love to hear the responses you receive so that we can post these on our website.
The question we would like answering is as follows:
"Facilities and services are still inadequate for disabled supporters at many football stadia across the UK against a backdrop of key recommendations and guidance from the Football Task Force in 1989, Taylor in 1990, the DDA legislation in 1995 with DDA Part 3 additions and the publication of the Accessible Stadia Guide in 2004/05 . The All Party Parliamentary Football Group made a number of significant recommendations for improvements for disabled fans in its recent report on English Football and its Governance. With all of this in mind, how will your party support these important issues and ensure that football (and other sports) finally become equally accessible to all fans?"
A template letter can be accessed by clicking here should you wish to send a hard copy instead of email. Alternatively please copy and paste the details into an email. If you have trouble accessing this document please email info@nads.org.uk.
As Parliament has now been disolved the candidates will not be picking up emails via their parliamentary addresses. To find out who your local constituency candidates are for the three main parties and what their contact email and postal addresses are please use the links below:
Danny Mills completes the Brighton Marathon
NADS would like to say a big thank you to Danny Mills for his fund raising challenge for NADS and ASBAH. Danny recounts his experience on his Just Giving page. To read his comments please click here and remember its not too late to donate money to this very worth cause. Below are pictures of Danny after he has completed the marathon. NADS will publish the full amount raised in a future e-newsletter.
Final call for Trustee Nominations & the AGM
Anyone wishing to nominate themselves to stand as a Trustee must have their application received by NADS no later than 5pm on Wednesday 28th April. If you are interested in standing please note this date so you do not miss your opportunity. Late applications will not be accepted. To access a copy of the Nomination Pack please click here.
The AGM is taking place on 26th May 2010 at Wembley Stadium this year and the register of attendees is filling up fast. If you have not contacted us to confirm your attendance please do so as soon as possible, but in any event no later than 14th May. With the number of guests we already have confirmed we would urge you to contact us as soon as you can because there is a limit on numbers and we are nearing capacity. The invitation to attend will close on either 14th May or once capacity has been reached, whichever is sooner. To access a copy of the RSVP form please click here.

Don't forget that following the AGM there will be an accessible tour of Wembley Stadium so please let us know whether you would like to do the tour as well. Again places are limited so please contact us as soon as possible.
If you have trouble accessing the relevant documents for the AGM and Trustee nominations please email info@nads.org.uk.
NADS and London 2012 mourn the passing of David Morris
NADS was sad to learn that David Morris passed away suddenly last weekend. David was a long term campaigner and advocate for disability rights and had been working at London 2012 for the last year on secondment from the London Mayor's Office. NADS Chair, Joyce Cook said "We will all miss him greatly. This is a huge lose for disabled people. David was a great friend and mentor to many people including those of us at NADS". To read the press release and find out more about David please click here.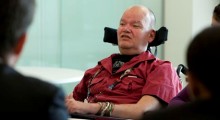 Cash on Offer for Grassroots Football
Kick It Out, football's equality and inclusion campaign, has teamed up with the Football Foundation to give up to £2,000 for community groups, grassroots and amateur clubs to overcome exclusion through football related activities.
The aim of the grants programme is to help to increase participation from minority communities in all areas of the game, including playing, coaching and refereeing, using football to create more inclusive communities and helping grassroots and amateur teams develop closer links with mainstream football including local county Football Associations.
Any group wishing to apply for a grant can do so by visiting www.kickitout.org
The deadline for applications is Monday 25th April 5pm.